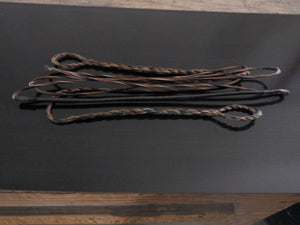 All Flemish Strings are specifically built to fit Centaur Longbows
Each string is handcrafted with specific tolerances and built for performance, durability and silence. 
These strings are made with a non-stretch material called Mercury. They are a 2 bundle configuration consisting of 20 strands in the main body with a special process used at the center served area to minimize weight, and give proper nock fit while still yielding a perfectly round, and even serving from end to end.
Each loop of the string is padded with additional strands of Mercury material. A 20 strand string will have 28 strands total in the loops. Padded loops give the string more surface displacement and make the string easier on the bow especially in the unlikely case of a dry fire. These loop strands are staggered to give a uniform tapered run out, and measured to a length which maximizes structural integrity without adding unnecessary weight back at the limb tips.
During the building process of the strings, they are stretched for 12 hours at 350lbs. at specific predetermined lengths during a conditioning process to achieve their target finished length with only 1/2 twist per inch of overall length. This process eliminates unnecessary stretch while shooting, repeated unstringing of the bow and excess twisting of the string.
These strings are served in the same direction as the twists for seven inches with .024 Halo/62XS while the bow string is under the full stress of the stretching, and conditioning process. This insures a good tight center serve that will not get loose or unravel itself under any circumstance. Outside diameter of a finished string will measure about .110
A lot of thought, time and effort goes into each string to make it the best Flemish twist string you can get for your bow.